Sunday, Apr 13
We left sunny Los Angeles and took the Pacific Coast Highway North towards San Francisco. The views are incredible . . hard to really capture on film ( well . . not really film). The waves were literally crashing against the rocks that seem to 'grow' out of the ocean. The roads wind up and down the mountains, and at times you have the magnificent view of the Pacific Ocean on one side and on the other side these incredible rolling hills of green trees, grass and wildflowers. This part of the trip has been the most scenic so far.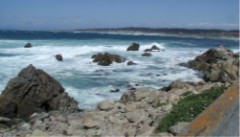 We went thru the Hearst Castle Sunday afternoon.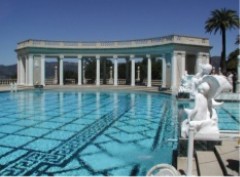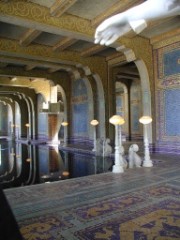 Everyone should have matching outdoor and indoor pools . . dont'cha think? . . Carol says she is gathering ideas for the new house . . Oy vey . . . The castle itself was pretty typical castle fare, but the grounds were out of this world. We spent the nite in San Luis Obispo at the Apple Farm Inn...a quaint place that offers a basket of apples in the lobby and fresh-baked cookies every night at 7pm. They also have horse-drawn carriage rides every evening, but we didn't realize it until the next morning. We then continued on the Pacific Coast Highway through Carmel and the Monterey Peninsula, including the 17 Mile Drive at Pebble Beach. We didn't bring our clubs, but we stopped at the golf shop so we could pretend to have hit the links. For those of you who haven't been through these parts, the drive takes you past some of the most magnificent homes ever built with views of the Pacific Ocean...and includes some stop-off points, including the vision below of a Cypress tree growing out of the rocks.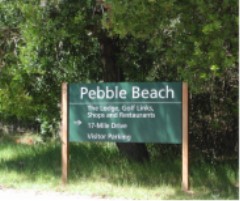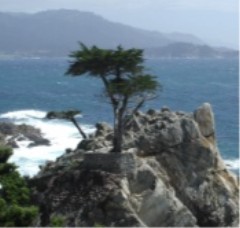 We spent the nite in Half Moon Bay, a couple hundred miles north of Monterey. Rather than risk being in the Wine Country over the weekend, we decided to go there first and save San Francisco for the weekend. . so to continue go to the Napa Page next